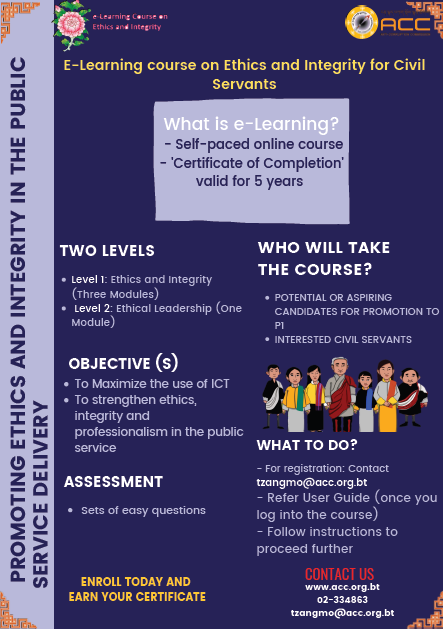 Today, e-learning has become the norm for many industries and institutions, and the educational sectors. With the pace of technology advancement, many students and professionals opt for e-learning as it offers the flexibility of time and location, while still providing quality education.
One of the most recent examples of e-learning is the launching of an ethics and integrity course aimed at public servants. This e-learning course is a product of collaboration between the ACC and RCSC. The course aims to equip public servants with the necessary knowledge to enhance their ethical decision-making skills, boost the integrity of public service, and help reduce corruption.
The course is designed to be user-friendly, interactive, and self-paced. It incorporates various learning tools such as videos, case studies, and quizzes to make the learning process more practical and engaging. The course also uses a Learning Management System that allows course takers to track their progress.
Furthermore, the course is accessible on various devices, including mobile phones, tablets, and laptops, enabling learners to access the materials anytime and anywhere. This flexibility is beneficial for public servants who might have a limited time schedule due to their job demands.
Overall, the e-learning course on ethics and integrity for public servants is a revolutionary step in enhancing the quality of public service in the country. It provides learners with an excellent opportunity to expand their skill set, and at the same time, help the government to achieve the goals of transparency, accountability, and good governance.
E-learning courses has been developed for various areas including:
Upon Completion of the course, an individual receives an e-certificate of completion